Finally I managed to go through the substantial amount of fabric that has either been given to me, bought,or inherited.Once you get going it does get easier and hours later, as I had to find all boxes, sort,and re-stack, finally managed to fill up quite a few bags for the Op Shop and today loaded the car and promptly delivered them before I could change my mind.
I even added a bread maker, who needs two?
This was only one lot of fabric that I use to make children's and myself clothes and for cushions and upholstery. There is another lot of fabric for quilting, I may sort it into colours but not until I at least start quilting once more, there it is that to do list again.
I sew a lot, especially for the grandchildren, the youngest twins, boy and girl I am currently making for. Also once this last lot of fabric is gone that's it. The eldest girl is 13 and by then other then maybe a dancing outfit they really don't want Grandma to make them anything. Clothes now a days are so cheap, but for the littlies you can still save quite a bit of money.
Current dress on the go for 2 yr. old.
The good thing about all of this is the number of plastic boxes I gained when emptying so much. Very easy to use in the garage or give away.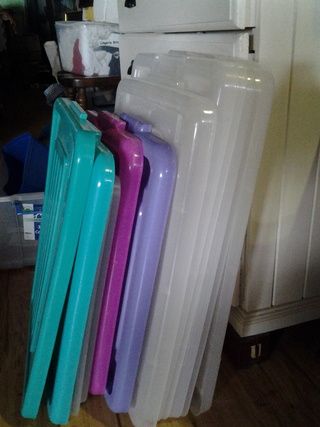 So many lids indicating a good day of purging. Let there be more!