After a whirlwind London visit we headed off to Greece via Aegean Airlines. The first thing we found was that our Travel Agent didn't book luggage through so 55 Euros each later, we finally arrived in Athens. A very large sprawling city built on top of the ancient ruins of what was already a large city, and the weather was hot.
View from Top of Hotel
Looking down to the street
Distance View was 360 degreees.
We had allowed for an extra day before we joined our Globus bus tour, but by the time we traveled the hour in, 2 hrs. ahead in time, and unpacked it was dinner time so walked to a very nice English speaking restaurant and had a nice dinner and walked back. I noticed at that time after the heat, people are sitting every where especially the restaurant area which was a maze of hedges and trees between all. Nice and cool. A change from the main road.
Walking to dinner
Next day before we had to meet the bus group at 6pm, we found a laundromat, where the owner did the washing so we had to go back and pick it up. So much cheaper than going through the hotel system. Euro2.50 a kilo while the hotel had per item E7.50 - 11.50. Walking the backstreets of Athens though was noticably dirty and rundown, due to the crisis a lot of businesses have closed.
Our bus
So after a wonderful breakfast, the next day started our tour of Athens, Paliment House, Changing of the guards, 2004 Olympic Stadium.
Changing of the Guards done every hour
2004 Olympic Stadium
Roman and Greek soldiers ready to take your money for a photo.
Smile Please
The Acropolis, of course being on top of a large hill so lots of steep climbing in 31C degree heat and crowded. It includes many buildings and temples from long ago, most in ruins or not there. It makes for extreme walking in the heat.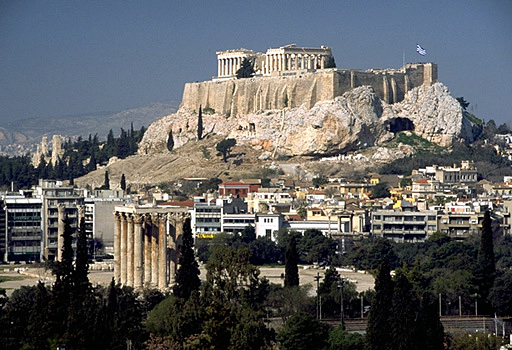 From Tourism Athens.
The Female Temple - Erechtheum
Lots of ancient marble in the paths and on steps, slippery if it rains.
Porch of Maidens ( copies)
Part of the Pathenon is under building construction. They are replacing a lot of the carving with copies and all original things are in the Acropolis Museum, which after our return back to Athens 10 days later, we visited and with all the models and movies etc. the whole of this made more sense. So if you ever visit do the museum first, to understand the history.
3000 year old Parthenon
Another Icon ticked off.
The constant crowd.
Waiting for the bus at the end.
We were warned not to buy anything from the shops around the archaeological sights as much cheaper either in the township or at the factory which we visited later, and it was.
On our way back we had the choice of being dropped off at the Archaeology Museum which we took. Very interesting of several ancient cultures as well. A long walk back though as couldn't seem to find a taxi free.
Archaeology Museum
That night we decided to do the dinner which was an extra to the tour, and after following our guide and walking though the opened shops quite late at night, in the heart of Athens, ended up in a large restaurant. The service of this very crowded place was quite good and enjoyed a variety of regional dance styles along with costumes, including a very good Belly Dance. Had our first taste of Ouzo. Afraid I didn't like it even water down a lot.
Venue filling up
Very late to bed at 11.30 to be followed by an early 6.30am wake up. Traveled across the spectacular Corinth Canal.
Corinth Canal joins 2 seas and finished 1890
Then visited Mycenae famous for the Helen of Troy legend, and the Lions Gate, Europe oldest known monument. Not a huge place and seated on a hill. A burial place full of beaten gold was found here possibly a kings tomb.
Lions Gate. Lions heads possibly stolen due to being jewel encrusted. Note the Walls
Mycenae
We then went on to the Epidaurus and impressive 2,300 yr. old theatre still used today, by locals and USA movie stars. A whisper if standing in the middle could be heard at the top.
Next day we set off to vist a pottery factory and to see where the original Olympic Games were held and the Temples of Hera and Zeus. Plus another museum.
First up the demonstration of pottery making at the factory and all its fabulous goods for sale.
Watching him throw a pot while we learnt the history of it all in Greece.
Pottery styles
This design I got a small jug
Choosing a small white statue to add to ones I had bought in Europe years ago. (David)
Bought a coaster in this enamel ware on pottery plates. Lots of shiny dots
One thing I had already noticed by now is all these ruins are huge, that held large populations and spread out. This day happened to be 37C., windy and exhausting especially as by now was a week of constant walking since we left Australia.
Temple of Zeus behind me


Old Roman Baths put in after the Romans conquered Europe.
Shopping area
Entry to Olympic Stadium
The running track where you ran naked.
Visiting the museum
So many statues are headless.
Slept like a log that night. I hope this wasn't to long, it is the end of Day 4 so you can see how much we did on this tour. Dinner was the usual Greek Buffet but we had a demonstration by the Chef on Tzatziki which was nice.
Next time off to Delphi.