I took a photo today between rain showers of the back garden. 2004 we changed it but prior to that it was completely different so I thought you might be interested by how much.
The first photo is of the nearly empty block back in 1981. We were living in a caravan with the four children. John would come up every day, before and after work (teacher) doing all sorts of things, prepping for brickies, digging ditches etc as we built the house bit by bit. Weekends I would get stuck into the garden and whatever else was needed.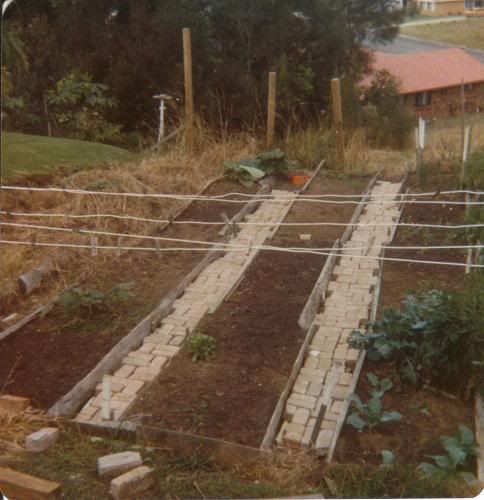 1982
From this humble beginning no fences and a basic clothes line, we progressed to this, by then 5 children, and both working full time.
1988 - 2003
This garden was actually good for about 15 years progressing along in various ways, then after John retired we decided to freshen it up and after much designing came up with this.My theory being when I stopped growing veg. all the round beds could just be filled with roses or something.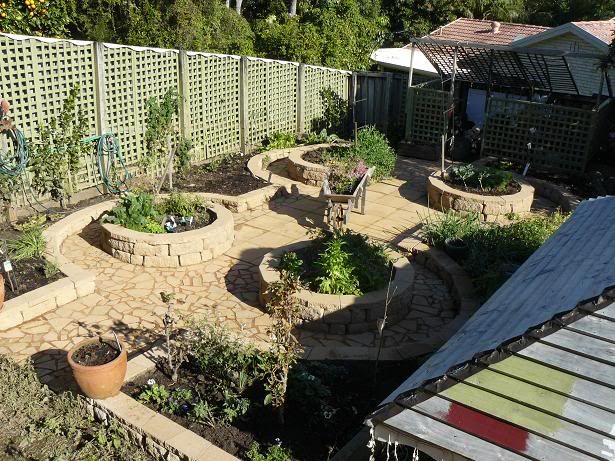 2004
From the Corner Bed Rest of Backyard.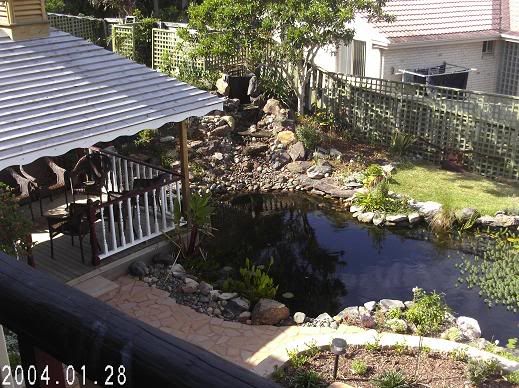 From the Verandah.
Today I took another photo between rain squalls.

2015 and Looking Tired
Apple Trees in front to the left. Lemon and lime trees to the right
Lemonade lemon way down the back LHS. Two arches across round beds have beans. Potatoes, tomatoes, perpetual leeks, and the strawberry tower way down the back also. Lots of flowers and kale. Combined with the front garden we are self sufficient in vegetables. Potatoes and onions about the only thing I buy between times.
The pipes down the middle are there as we are going to put them across the round beds to stop insects, birds and fruit fly. Same as the one in the back Right hand corner one. The fence was recently painted to match our new roof colour.
It would be nice to have it pristine clean like the 2004 model, but such is the nature of gardening vegetables with dirt and weeds. Once a year I do a pressure clean to tidy it all up. A non sunny day hasn't helped with the look of it. The flowers are just starting to fade so I will have to dig them up and plant some summer varieties. They have been such a picture this year.
 We also have been keeping chickens, for about 10 years.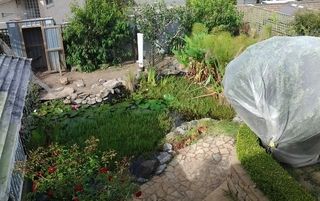 Summer Time 2014 Chickens Live Across Pond.
Peachcot, Mulberry and Nectarine on back fence. Plum covered with netting, against fruit fly.

Being in Sub Tropical climate the growth is very lush, so although easy to grow most things, it is a constant battle to keep it under control.
The pond is getting a bit thick with weeds so at some point this has to be cleaned out and re-done. Not the easiest of jobs.
I hope you enjoyed a wander through the back garden.