A parcel turned up recently from Harrods. What a surprise!
Our two girls met in London after the eldest went on a bus tour through Europe and the youngest and her husband visited his relatives. Both had a wonderful time, then they all did the sights and sounds of busy London. Of course no-one can go there without seeing the famous shop. John and I have done that ourselves, when we went looking for a white Christmas while our 2nd son was living in
Wales.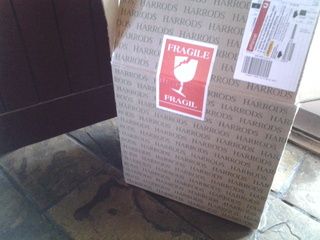 The Harrods Box
Imagine this travelling from England to Australia you couldn't miss where it came from.
So what did I get, which was actually for my birthday?
Cup of Tea Anyone?
A beautiful Tea Pot and 2 gorgeous cups. The pattern is Old Country Roses by Royal Albert China. This is the most popular pattern of all time and I love it.
Thanks Girls.xxx